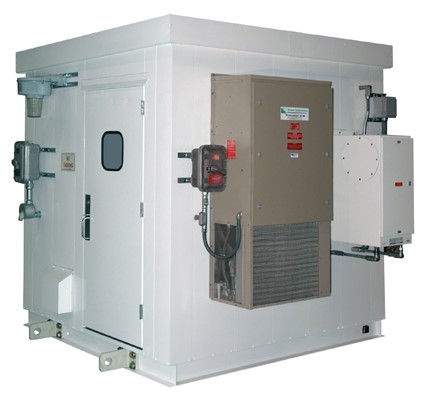 Analyzer House / Shelter
At Ecos Link we design cabinets and analzyer shelters to meet any environmental conditions, from a simple free standing rack for instrument to multi-analyzer shelters complete with HVAC and safeguarding system for use in various hazardous and no-hazardous locations.
Supply complete with piping, wiring and junction boxes.
Design with complete HVAC system, correctly planned electrical circuitry & to any installation and signage standards required.
Can be with shelters to protect equipment in cabinets.
Equipped with various type of analyzers, gas chromatographs, FGS equipment, loggers, and complete subsystems to serve multiple lines and sampling points etc.
Pre-Fabricated for easy site installation.
All-inclusive plug-and-play.
Complete analyzer shelter can comes with lifting hooks and anchor pads.
Weatherproof, explosion proof, or flame proof equipment.
HVAC System for Analyzer house, Power Distribution Board, Lighting Fixtures, Junction boxes for EHT and Instruments, Local Control Station, ELV system.
Sampling and conditioning system
We provide gas sampling and steam and water analysis system (SWAS) for any environmental process as well as provide design. Our solutions are suitable for outdoor use in an industrial environment and ATEX Zone 1 or 2. After selecting the analysers and designing the sample systems it is very important to choose the environment for the complete system.
Built as per standard VGB/DGRL and guidance ASME PTC 19.11 Steam and Water Sampling, Conditioning, and Analysis in the Power Cycle.
Compact design with best selection of top of the world fabricate components.
Efficient temperature cooling with Sentry sample coolers, pressure reduction with Sentry VREL and flow control.
Grab sample capability.
Including Swan Back Pressure Regulator BPR for constant pressure and sample flow for up to 4 water analyzer applications.
Custom options are available to fit your needs.
River Monitoring Station
River Monitoring Station is a set of multi-parameter water monitoring sensors and online full spectrum analysers as the core, the use of modern integrated sensing technology and automatic control technology, as well as dedicated data analysis software and communication network composed of automatic water quanlity monitoring system. It has the following advantages:
Continuous measurement probe-type electrode sensors able provide a fast response time, improve the timeliness of the system's early warning.
Provide a full set of solutions, small size, strong function, less input; suitable for different water bodies of long-term online monitoring system, save land acquisition, save cost for construction of station housing and other related cost.
The rugged stainless-steel housing and safe anti-theft design for true unattended.
Classical garden-style design, so that the monitoring system and the surrounding environment highly coordinated.
High degree of automation, with its own cleaning function, less maintenance costs and longer stability.
Large pipe size for the water inlet and drainage system, reduce the risk of blocking the pipe, reduce the failure rate.
High-quality multi-parameter water quality monitor and online full-spectrum permanganate index analysers; continuous, timely and accurate monitoring of the water quality of the target area.
Remote Monitoring System
Our Remote Monitoring System is a compact battery powered device with ultra-low power consumption, IP68 protection, wireless communication and various sensor data collection functions. It is used for monitoring sensors where no power supply is available and in harsh environments. It is multi-functional with data collection, storage, alarming and transmission of data for applications not limited to but including underground water supply, hydrant water pressure monitoring, dam and reservoir monitoring, water supply and sewage drainage pipeline. With a wide coverage of wireless networks, the product detects the real-time data of many monitoring sites in a wide range of areas like tap-water pipeline pressure, flow, underground water, agricultural irrigation, dam level, water monitoring, wind, rain, ambient temperature and humidity, air quality monitoring, water flow monitoring, imaging and fire fighting pipeline monitoring, especially suitable for underground well detection application in a harsh environments.
FEATURES INCLUDE
Battery or Solar Powered.
Low current consumption, 3-5 years battery life (depending on sensors connected and frequency of data transmission).
Multiple Input options: 3 x Analogue, 2 x Digital, 1 x RS485, 1 x Camera imaging.
Communication options include: 2G, Multiband, NB-IoT, LoRa.
Up to 200,000 data points can be stored internally.
Configuration locally or remotely via the cloud platform.
LC Display with visible backlight.
IP68 fully submersible to 1m for 72 hours.
Easy installation, can be mounted on a wall or via a hoop configuration.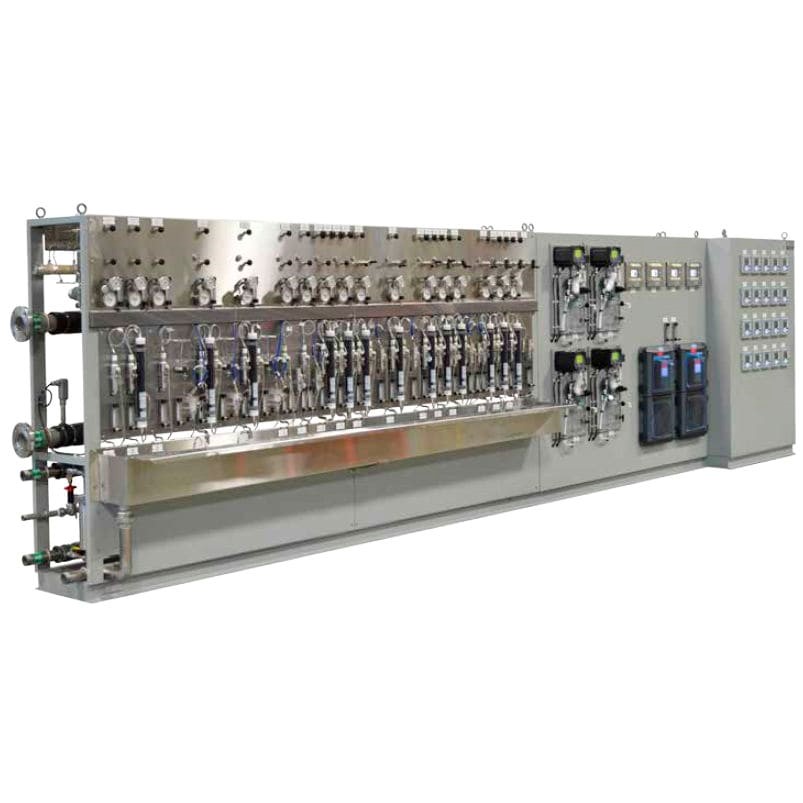 Steam and Water Analysis System (SWAS)
Ecos SWAS system integration offer you high quality and innovative products in sampling systems and analytical measurement technology. We are an independent system integrator in analyser as well as a specialist of steam and water sample conditioning and collection systems.
Stratification Test & CEMS QAL 2,3 & AST AUDIT
Upon commissioning of new cems in plant, the premise is required within 3 month of commissioning to undergo QAL 2 and report to the local authority. We provide competent person and business partner to perform the required task by Department of Environmental.
EN 14181 specifies within QAL2 , 3 and the AST that CEMs must have a set of annual functional tests. The functional tests may be performed by the operator, test laboratory, CEMs supplier, or another third-party.
The functional tests include linearity, response time and zero / span checks. Functional test results should be reported using a form that meets the requirements of Environment Agency Technical Guidance Note M20 and EN 14181.
Contact Us
Ecos Link Solutions Sdn Bhd
No 12, First Floor, Jalan Eco Perindustrian 1/3C,
Eco Perindustrian 5, 42300
Bandar Puncak Alam, Selangor Malaysia.
Office: +603-5871 1226
Email: info@ecoslinksolutions.com